Corporate Social Responsibility
At Constant Group we understand Corporate Social Responsibility as part of the development of our daily activities. Since our beginnings, we have been committed to the ongoing development and growth of our team, transferring the generated value to the society.
All the Group's activities are carried out with a total focus on business profitability, without forgetting the respect and commitment we owe to people and the environment.
In relation to social issues, we also contribute to creating opportunities for all people, promoting their full, absolute and maximum integration at all levels, through various and diverse projects, especially designed for disabled people with the Special Employment Centre (CEE) itself.
We have provided numerous grants, collaborations and sponsorships for the fight against cancer through various associations and institutions, including the Obra Social de Sant Joan de Déu. Constant Group has been organising the XAP Constant golf and paddle tennis tournaments for many years. The proceeds from these tournaments go entirely to various social projects.
With regard to environmental actions, the company is fully committed to compliance with legal requirements and the implementation of the most demanding environmental management systems in accordance with the international standard ISO 9001. This involves environmental integration, prevention and management in all operations and processes. All actions are presented in the document EINF 2021 (Statement of Non-Financial Information)

Special Employment Centre
Within Constant Group we have a Special Employment Centre (CEE) that allows us to promote the integration of people with disabilities in the job world, under equal professional conditions and through the different activities that we develop within the Group.
Thanks to the in-depth knowledge of our professionals in the different sectors in which we operate, we offer a broad portfolio of effective, innovative solutions with the best value for money on the market.
Our special centre has 80% of its staff made up by people who have a physical or intellectual disability of more than 33%, so our mission is to enhance their skills and provide them with a complete adaptation to their jobs.
As part of a large group of HR and service experts, CEE is the ideal partner to provide you with high quality services and help you achieve compliance with the LGD (former LISMI).
This action is promoted and funded by the Department of Enterprise and Employment, and 100% financed by the REACT-EU fund as part of the European Union's response to the COVID-19 pandemic.

Interactive map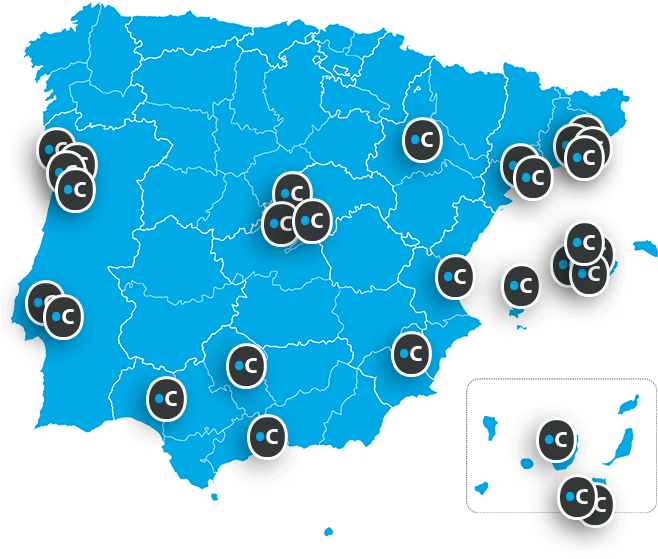 National presence and International
Discover our interactive map!
Central Offices
Barcelona: Avinguda Diagonal, 523, Edificio Atalaya, Planta 21
Madrid: C/ Alfonso Gómez, 42C / C.P 28037
International Offices
Portugal / República Checa
National Offices
Alicante / Barcelona / Córdoba / Ibiza / Las Palmas / Madrid
Málaga / Murcia / Palma de Mallorca / Sevilla / Tarragona
Tenerife / Valencia / Zaragoza