At Constant Group we are specialists in the Human Resources sector. Our 35 years' experience in the sector has allowed us to provide opportunities to thousands of people and solutions to companies looking for personnel through outsourcing or temporary employment contracts. We care about people and seek their utmost satisfaction.
Our specialisation in human resources and the in-depth knowledge of our professionals in the different sectors in which we operate allow us to offer a broad portfolio of efficient and innovative solutions with the best value for money on the market in the field of outsourcing, temporary employment, general services and facilities.
The increasingly important management of qualified professional staff is a key factor that is becoming ever more important for business success. Aware of this, at Constant Group we feel a special motivation to innovate in this field and offer services adapted to each type of project. In the Group we have our own team of professionals who constantly analyse the latest trends worldwide in order to apply them for the benefit of our clients.
Our more than 30 branches, both national and international, allow us to be close to our clients and offer solutions tailored to the needs that their various companies require.
Lines of
business
TTE
Outsourcing
Facilities
Presence in
+30
delegations
(Spain, Portugal
and Czech Rep.)
Billing
150M
of euros
We service
3.382
customers
We sign
43.371
contracts
We collaborate with

59.018€
collected
We hire
24.929
people
Via
3.040
employees
means per month
in client
Via
406
empleados
corporativos
Our mission
Design tailor-made solutions in order to improve the productivity and profitability of our clients, maximising the resources invested.
What do we do to achieve this?

We are focused on results

We offer a quality service




We offer rapid decision-making

We have an Integrated Management System
Our values
At Constant Group we take the quality of service we offer very seriously, and we always do so with the values that represent us:
1
Authenticity
We value our origins and act with conviction, honesty and dedication to uphold them.
2
Ambition
We continuously explore how to diversify our services and improve their quality to meet the needs of our clients.
3
Respect
We show and promote the utmost respect and acknowledgement for our employees and clients.
4
Adaptability
We are willing to adapt our services to our clients' needs.
5
Commitment
We are committed to working for the welfare and loyalty of employees and clients, as well as helping social entities linked to health, children and disadvantaged groups.
6
Efficiency
We look for new management models that allow us to obtain the desired result both in terms of internal processes and in the services offered with the necessary resources.
We constantly strive to become a better company for our clients and partners.
For this reason, we always have our sights set on transforming our company towards greater:
Interactive map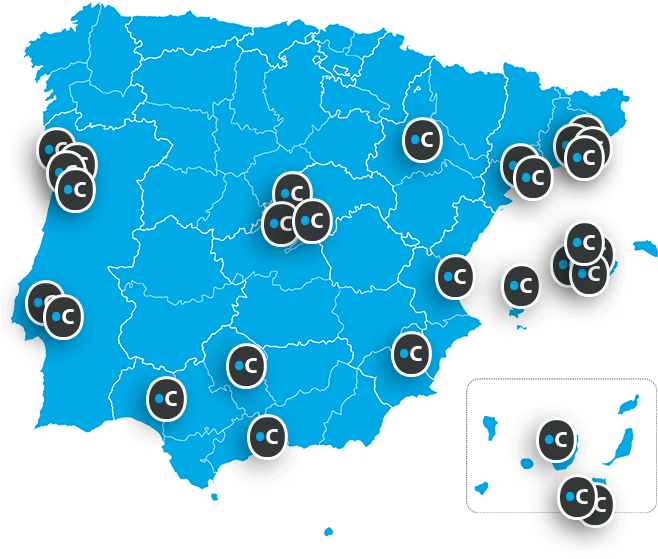 National presence and International
Discover our interactive map!
Central Offices
Barcelona: Avinguda Diagonal, 523, Edificio Atalaya, Planta 21
Madrid: C/ Alfonso Gómez, 42C / C.P 28037
International Offices
Portugal / República Checa
National Offices
Alicante / Barcelona / Córdoba / Ibiza / Las Palmas / Madrid
Málaga / Murcia / Palma de Mallorca / Sevilla / Tarragona
Tenerife / Valencia / Zaragoza