Recruitment of candidates for temporary employment (ETT)
Constant Group, specialised in Human Resources management, offers the service of recruiting candidates for temporary employment (ETT), quickly providing a very close relationship with the client.
Having our own recruitment department and 30 years' experience has allowed us to gain in-depth knowledge of each sector and to get to know what the profiles required by each type of client should be.
Constant Group's company dedicated to offering Temporary Employment contracts, Personal 7, we offer a comprehensive service that includes recruitment, evaluation, selection and hiring of qualified professionals in temporary employment, considering that there are peak workloads.
Specialised in sectors:
Constant Group's years of experience in offering temporary employment resources has allowed us to specialise in a range of diverse sectors such as logistics and transport, industrial, commercial, hotel and catering.
This allows us to offer a quality service by gaining in-depth knowledge of the client's needs and being aware of which profile to select.
Why hire ETT from Constant Group?

Proximity. 24/7 availability for any emergency
We are located throughout Spain, including the islands, with more than 30 branches. Internationally, we are in the Czech Republic and Portugal. The result: being close to you, working in an agile manner and creating a relationship of trust between our client and Personal 7.

Maximum hiring capacity in peak workloads
Our in-house team of recruitment specialists have the ability to quickly select and recruit the necessary resources during peak workloads.
Optimal technological resources
Personal 7 carries out the entire recruitment process digitally through web-based systems and applications. In addition, our own IT department is constantly innovating and developing applications to facilitate management.

Employee stability
Personal 7 has its own team for candidate selection and the resilience of this staff generates optimum confidence among clients, allowing to speed up the search process.
Interactive map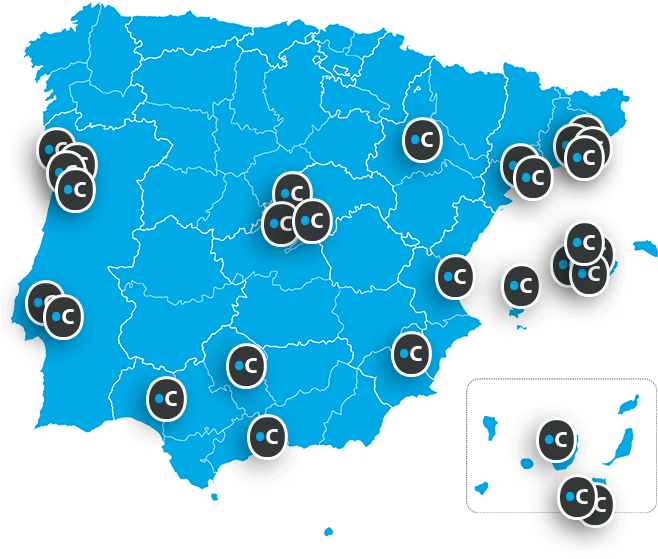 National presence and International
Discover our interactive map!
Central Offices
Barcelona: Avinguda Diagonal, 523, Edificio Atalaya, Planta 21
Madrid: C/ Alfonso Gómez, 42C / C.P 28037
International Offices
Portugal / República Checa
National Offices
Alicante / Barcelona / Córdoba / Ibiza / Las Palmas / Madrid
Málaga / Murcia / Palma de Mallorca / Sevilla / Tarragona
Tenerife / Valencia / Zaragoza