Outsourcing Specialists
Through its specialised companies and in-depth sectoral knowledge, Constant Group offers the best outsourcing solutions, providing the most appropriate human capital and technical focus in each case. In our company we use our own methodology to be able to develop comprehensive management for each sector in which we operate.
Thanks to our extensive presence across the Spanish territory, including the Balearic Islands, the Canary Islands, Portugal and the Czech Republic, we are easily accessible to our clients and can select the optimum human resources for each service provided, as well as the most advanced technological support resources. In this way, our clients optimise their resources and improve their productivity by not having to worry about coordinating different suppliers.
Outsourcing services: Specialised in sectors
Thanks to Constant Group's in-depth knowledge of all the sectors in which we operate, we are able to offer outsourcing solutions to cover any personnel needs that the client company may have. The different brands that make up Constant Group are specialised in different economic activities.
Why outsource services with Constant Group?

Due to working with unit prices and based on productivity.
We convert fixed costs into variable costs through unit prices.

Maximum hiring capacity in peak workloads
Our in-house team of recruitment specialists have the ability to quickly select and recruit the necessary resources during peak workloads.

Ad-hoc reporting of results.
We gather all the service information that the client requires on dynamic information panels. The objective of reporting is to increase the speed and quality of decision-making.

National and international presence
Our presence throughout Spain, and in cities in Portugal and the Czech Republic, facilitates our ability to offer services wherever our branches are located and, thus, being close to our clients.
Interactive map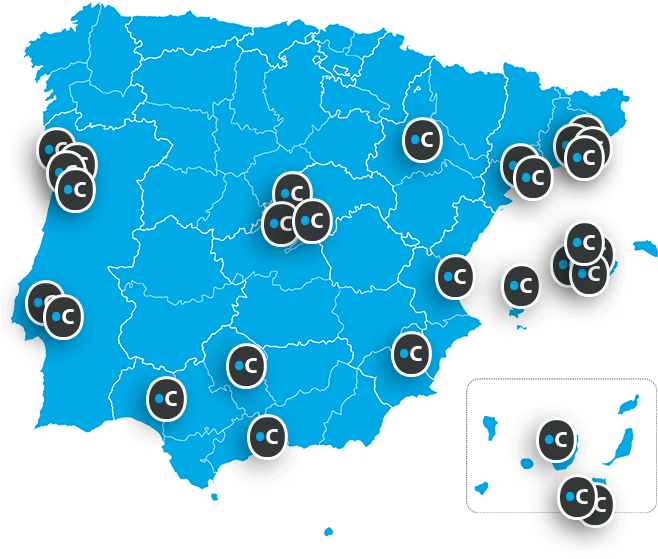 National presence and International
Discover our interactive map!
Central Offices
Barcelona: Avinguda Diagonal, 523, Edificio Atalaya, Planta 21
Madrid: C/ Alfonso Gómez, 42C / C.P 28037
International Offices
Portugal / República Checa
National Offices
Alicante / Barcelona / Córdoba / Ibiza / Las Palmas / Madrid
Málaga / Murcia / Palma de Mallorca / Sevilla / Tarragona
Tenerife / Valencia / Zaragoza